22-06-2009
It was in 1994 that my wife and I entered the small visitor centre of Laphroaig for the first time. There was no one there and we looked a bit around, till a gentleman showed up with a green "Laphroaig" embroidered sweater. He introduced himself: "Hi, I am Iain Henderson, I am the manager". There wasn't a tour anymore that day, but he showed us around as if we were the first tourists he saw that year. When we left we bought a nice bottle. A 30 year old Ardbeg...sorry for that. I have met Iain on a number of occasions. Last time we met was at the launch of "The Legend of Laphroaig" November 2007 when he had come over to Holland for the occasion, hosted by Dutch Laphroaig importer A Brand New Day.
We were in Scotland the last week of May this year and had made an appointment with Iain to meet and have lunch in St. Andrews. He had agreed on doing an interview for WhiskyFun.com. Serge Valentin and I had prepared some questions and the result you can see here: www.whiskyfun.com. Thanks Iain for the interview and passing your love for the distillery on to me. The next months I will show some of Iains private pictures which he kindly has given me to scan.

St. Andrews, 23rd of May 2009
14-06-2009
It's getting harder and harder finding new and interesting bottles, but soon expected: batch no.1 of the 10 year old cask strength and the Feis Ile 2009 bottle. I will also add pictures from time to time from the personal collection of former manager Iain Henderson. Here are two, reflecting how moody Islay weather can be.
05-04-2009
Ended my Face Book profile today.
28-03-2009
Very happy with this 27 year old bottle for the staff members of Laphroaig. Only 94 bottles. Comes with certificate:


(Billy and Alex, thanks guys!)
New added: Highgrove 2008 edition
20-03-2009
Jack Wiebers has a keen eye for great presentations:
28-02-2009
Found this postcard probably from the late 1970-ties. The old chimney, which was knocked down around 1983 is still erect.
27-02-2009
New added: an experiment by my Italian friend Diego Sandrin, who finished a 10 year old cask strength distillery bottle in a Clinto cask for 14 months. I am not a big fan of exotic wood finishes but this is really good. Read Whiskyfun.com's comment about this bottle.
I have been looking for this strange mini for the Japanese market for years:
combination of a Laphroaig and Glenfiddich mini
Through a marketing tie up ALLIED SUNTORY distributed both brands in Japan.
For a spell the Glenfiddich manager and Iain Henderson were on big billboards in Japan and
were treated like pop stars...
16-01-2009
New added: Triple wood
10 year old distillery bottle with customised label
21 year old distillery bottle for the US market (thanks Andy)
Laphroaig's origin Irish?
During the last year I have received several questions from the Johnston family and Gaelic researchers why Laphroaig's version on their website of the earliest history is different than the one in "The Legend of Laphroaig" and which is commonly accepted by historians. A lot of incorrect information has been written about their history in the past and this has always been a sensitive point to the Johnston family. Therefore I have added a small chapter to "history" about it. Come on Laphroaig, please change it! Laphroaig is not of Irish origin!
"On Laphroaig's official website it is stated that the Johnstons were descendants from three McCabe brothers (being of MacDonald stock) who came to Islay after the Jacobite uprising of 1745. Historically this is not true. There are no records of McCabes on Islay in the 18th century and the direct ancestors of the Johnston family can be tracked down till around 1715. (The McCabes are an Irish clan, branch of the MacLeods of Arran who immigrated to Ireland in the 14th century.)
Except for the McCabe part, the story of three brothers coming to Islay comes from an interview in a Canadian newspaper The Scottish Canadian in 1912 with John Johnson, great grandfather of Canadian Johnston descendant, Finlay Johnson Payne. John Johnson's version of the Clan history was entirely based on the Oral (Gaelic) Tradition.
Finlay gave a copy of the article to Bessie Williamson in 1959, who left it in the Laphroaig files, where subsequent writers unfortunately have used it. He and other family members went on researching and found out his great grandfather's re-telling of the earlier Clan history wasn´t completely accurate.
Of course there might have been three Johnston (MacIain) brothers coming to Islay at the same time, after all they were a truly clannish family and their fortunes paralleled and intersected, but the Johnstons mentioned in the article, Ronald, Duncan and Alexander, were NO brothers."
10-01-2009
The Christmas discount on "The Legend" has been ended today.
Soon added: distillery bottle "Triple Wood"and the US version of the 21 year old.
21-12-2008
New added: Cairdeas 30 year old
07-12-2008
Link to a great new website by Philip Morrice. Philip published a book in 1987 called "The Distilleries of Scotland and Ireland". Familiar name? Right, a remake of Alfred Barnard's book from 1887 exactly 100 years later, both published by Harper's Weekly Gazette. A 1000 copies were printed, originally for the trade only. An unknown number of books was destroyed during a fire of the warehouse the books were stored. Like Barnard 100 years earlier, Philip visited every working distillery in 1985 and 1986. The result is one of the most beautiful whisky books I have ever seen, though not very well known. A masterpiece. Only a few copies are left. Philip is also the author of the Schweppes Guide to Scotch.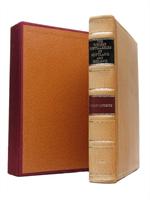 21-11-2008
This is what whisky and collecting make fun: a 10 year old US import probably from the 1940-ties or 50-ties. Extremely rare (thanks to Rafael Reyes, US).
17-10-2008
How rare can it get? Five year old cask sample that was given to Walter Schobert by former distillery manager Iain Henderson in the 1990-ties (many thanks to Werner Hertwig in Berlin, who knows a lot more about whisky than about football).
25-07-2008
Though I do not always agree with Serge Valentin on his ratings of whiskies (he is much too kind..), I fully agree with him that drinking and driving is bloody stupid. Whisky is expensive stuff and whisky drinkers are usually not poor people, so why not spend some euro's on a taxi or hotel? For your own safety and that of others. Therefore this banner and have a look on Serge's website.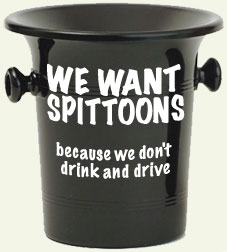 18-07-2008
Received these pictures from Mark Unsworth from Islay Studios today. Mark has written a really nice book about Islay: "Islay Past and Present- A Century of Change". Thanks Mark.
Here you see Alan Hyslop hand over a copy of our book "The Legend of Laphroaig" to HRH Prince Charles, which Hans Offringa and I had signed for him. Thanks Alan and Laphroaig.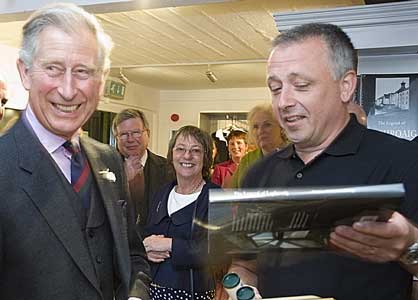 (click on the image for the original size)
17-07-2008
Really nice new website about the closed distillery Glenugie by Bob Hulsebosch from The Netherlands. Well done!
11-07-2008
Manager Evert Lans showing "The Legend" in front of a pallet of books ready to be shipped, just when I visited Dutch distributor Hexspoor.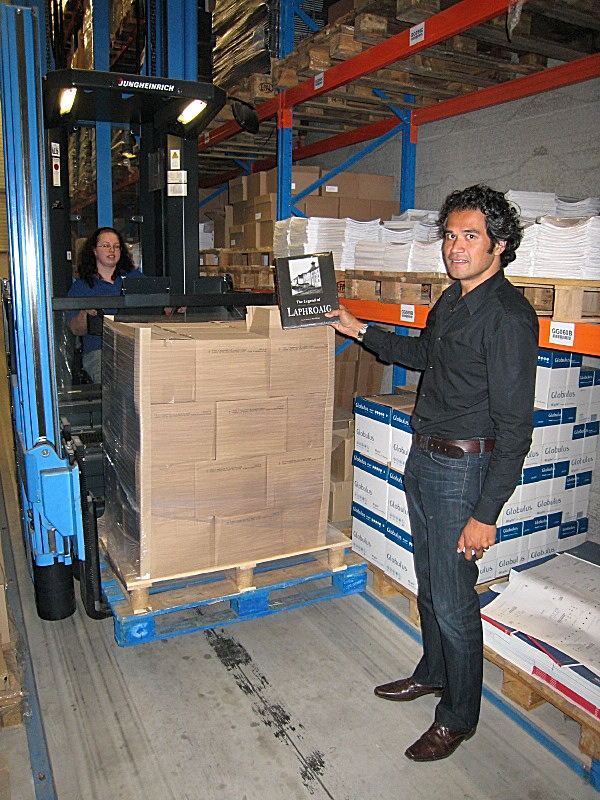 08-07-2008
Page 3 added of "the distillery", containing 32 really nice pictures taken by Hans Offringa, during the making of "The Legend".
04-07-2008
The left-overs of "The Legend": new added pictures of the distillery. Check the book for more pictures and explanation.
26-06-2008
New added: history section. A summary of "The Legend".
20-06-2008
On Wednesday June the 4th, HRH Prince Charles and his wife Camilla visited the distillery. On the occasion, a copy of our book was presented to him by Laphroaig's Alan Hyslop. Thank you, Alan and Laphroaig!! Nothing wrong with a little PR. On Laphroaig's website the whole story with pictures will be published soon. Here are some pics already of the visit: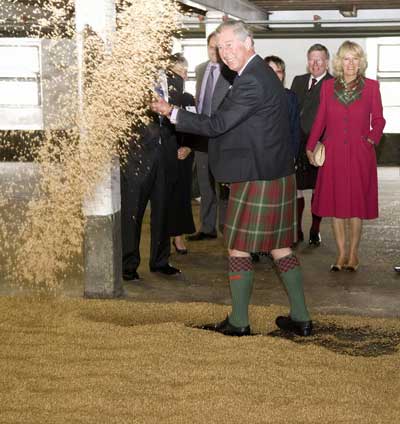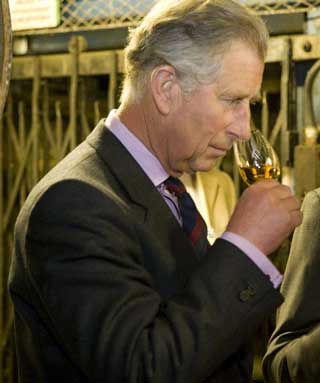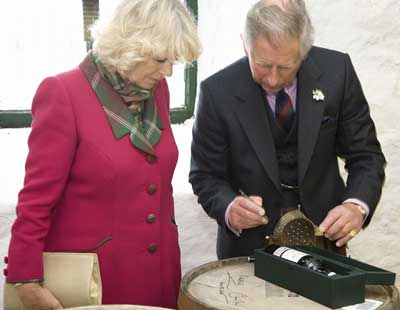 15-06-2008
The 1978 cask returned to Islay and was picked up from my home on May the 19th. The cask will be displayed in the future museum.
08-06-2008
New added:
Two bottles for Feis Ile 2008: Cairdeas
24-03-2008
Looking for an Islay Mist with this label: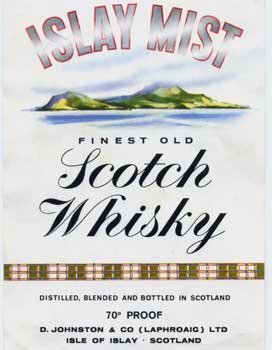 18-01-2008
New link added of a really nice new website from Belgium:
22-12-2007
New distillery minis:
14-11-2007
Two pictures of the launch of "The Legend of Laphroaig".
Iain Henderson and Hans and Marcel.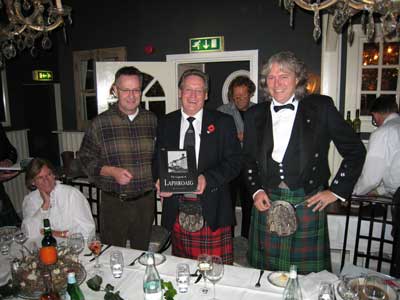 Master blender Robert Hicks with the authors.
Here is the cover of "The Legend...". It's not completely finished but gives a good impression.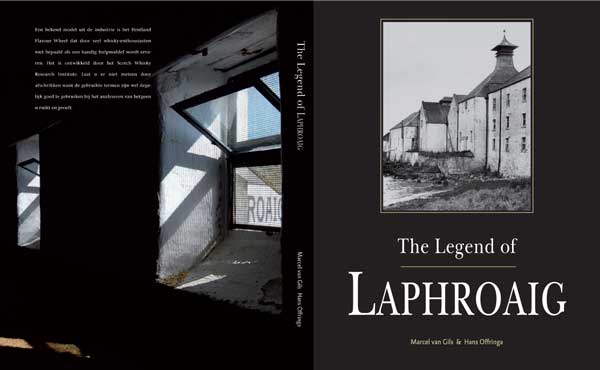 27-07-2007
New added:
Distillery bottles
20-07-2007
At the moment we are working with graphic designer Gijs Dragt on the design of the cover and pages. Research, text and photography are ready and we are in the process of "fine-tuning". Hans Dillesse has made the illustrations, which we will place with every new chapter. The book will contain some 210 pages, all about Laphroaig and nice old bottles, with lots and lots of pictures. We are fine on scedule and planning to launch "The Legend of Laphroaig" during Whisky Live in Leiden, the Netherlands, on November the 10th. Hopefully I can show the cover in a week or so.
27-04-2007
New added:
Islay Mist without any information
and bottle with a really nice label:
NEWS-NEWS-NEWS-NEWS-NEWS-NEWS-NEWS-NEWS-NEWS-NEWS-NEWS
Just back from Islay and Glasgow with Hans and Becky. We worked really well for two weeks and had fantastic cooperation from the Laphroaig people and the people at the Archives of the Glasgow University. Special thanks to Iain Russell, of the Scottish Brewing Archive who came up with an abundance of new information. This is probably not the most exciting of Glasgow buildings, but the the people and its content make up for that:
OK, and here is one of Laphroaig: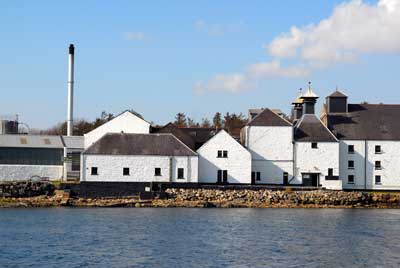 and Emma and Jack in the visitor centre:
05-03-2007
Together with Dutch whisky writer Hans Offringa and Laphroaig (Beam Global), I have started working on a book on Laphroaig, titled "The Legend of Laphroaig". It will be about Islay, Laphroaig's history, Laphroaig today, introducing the people who make the whisky, and a big selection of Laphroaig bottles, containing almost every existing bottle. There will also be chapters about the Friends of Laphroaig, HRH Prince Charles and Laphroaig's website. Hans, his American wife Becky and I will go to Islay in April and make interviews, pictures etc. We have been kindly given permission by Michael Cockram of Beam Global to use any material in their archives available. I have seen most of it already and it is spectacular. Illustrations will be made by Dutch artist Hans Dillesse. The book will be sold through the website of the Friends of Laphroaig and will be launched early November. Anybody who has something which might be of interest to us, information, pictures, bottles, please, let us know!!
Here is a sneak preview:
16-01-2007
Really nice new website from Austria:
14-10-2006
(Dipsies day)
New added:
13 year old Cadenhead 1967 old brown dumpy
The mini section is still a mess...
22-08-2006
New added:
10 year old distillery bottle Regal Brands (USA import)
10 year old distillery bottle Buckingham Wile (USA import)
03-08-2006
Nice article in Whisky Magazine issue no.15 about my collection, written by Serge Valentin:
"Laphroaig sans compromis" (pdf)
24-06-2006
New ten year old from S.p.A. Torino
Rare original Laphroaig jug from the 80's
New glassware which belongs to this set:
12-05-2006
Link to a new Dutch whisky magazine, first appearing in April:
Link to the Islay Whisky Club:
If you are an Islay fan, have a look here!!
----------
Link to a very original Dutch site: