Laphroaig Distillery
Port Ellen, Isle of Islay
Argyll PA42 7DU
Tel. 01496 302418
Daily tours on appointment.
It is commonly believed that the name Laphroaig is derived from the Norse "breid-vik", meaning broad bay. It seems that the name Laphroaig - the beautiful hollow by the broad bay - has Viking roots, although it could also be considered a Gaelic reference to an old place name.
The name however doesn't show up in any record or on any map till around 1800, the time the Johnstons, the founding family, settled in the area.
It is widely assumed that the early Johnstons on Islay were from MacIain (MacDonald) stock, evicted from their ancestral lands in Ardnamurchan by Clan Campbell in the early 17th century.
Rent rolls, birth records and grave inscriptions on Islay show that a sizeable number of Johnstons were already living on Islay before the Jacobite Rebellion of 1745. They "anglicized" their name for safety reasons in the 17th century. Recent DNA research has shown clear similarities between DNA material of both Johnstons from Islay and MacDonalds from Ardnamurchan.

Many sources state that the Johnstons were descendants from three McCabe brothers (being of MacDonald stock) who came to Islay after the Jacobite uprising of 1745. Historically this is not true. There are no records of McCabes on Islay in the 18th century and the direct ancestors of the Johnston family can be tracked down till around 1715. (The McCabes are an Irish clan, branch of the MacLeods of Arran who immigrated to Ireland in the 14th century.)
Except for the McCabe part, the story of three brothers coming to Islay comes from an interview in a Canadian newspaper The Scottish Canadian in 1912 with John Johnson, great grandfather of Canadian Johnston descendant, Finlay Johnson Payne. John Johnson's version of the Clan history was entirely based on the Oral (Gaelic) Tradition.
Finlay gave a copy of the article to Bessie Williamson in 1959, who left it in the Laphroaig files, where subsequent writers unfortunately have used it. He and other family members went on researching and found out his great grandfather's re-telling of the earlier Clan history wasn´t completely accurate.
Of course there might have been three Johnston (MacIain) brothers coming to Islay at the same time, after all they were a truly clannish family and their fortunes paralleled and intersected, but the Johnstons mentioned in the article, Ronald, Duncan and Alexander, were NO brothers.
Family tree of the Johnstons (click on the image and next 0n the bigger picture)
The Campbells leased the areas known as Tighcarmogan and Torradale around Loch Laphroaig to Johnstons. They are mentioned in the rent rolls as early as 1776 and likely (illicit?) distilling was already going on. One of the descendants of these early Johnstons was Alexander, who settled in Tighcarmogan, now Port Ellen. An Alexander Johnston(e) is recorded at Tighcarmogan in a lease dated 9th of October 1776 (part one and part two).
He might be the father of Donald (born 1796) and Alexander Johnston (born 1803), who are considered the founders of Laphroaig Distillery. Donald and Alexander are the sons of Alexander Johnston and Mary Graham and are mentioned in an offer for the lease from Duncan McDougall to Donald and Alexander Johnston (click on the document for a bigger version) dated 27th of May 1825, Tighcarmogan. Duncan McDougall was head tenant of part of the land called Torradale and given the text, this is not a renewal but an initial (sub)lease. Donald, the entrepreneurial one of the two brothers, was first recorded in the Excise accounts of 1826 as "licensed" distiller. He does not occur on the 1790-1825 distiller's list. In the "Black Book" of 1828, which is a list of Islay tenants, only Duncan McDougall is mentioned as tenant, not Donald Johnston, being subtenant.
Soon after Donald settles at Torradale, he marries Isabella McDougall (!) in 1829 (click on the document for a bigger version).

Laphroaig was founded in 1825.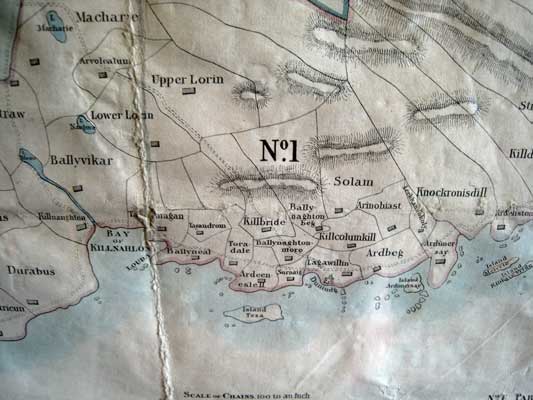 Kildalton around 1750 (detail of map by Steven MacDougall)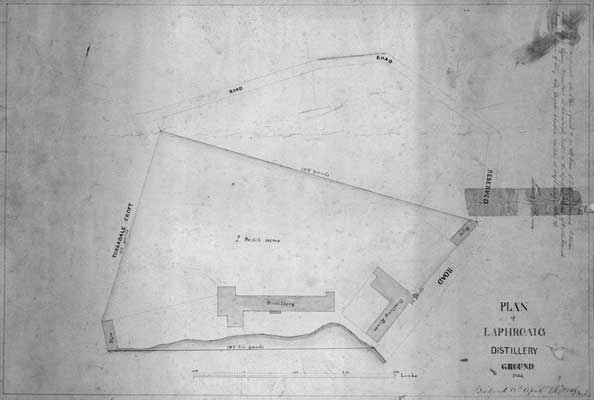 Laphroaig site plan in 1854
Laphroaig was soon joined by another distillery at adjacent Ardenistiel Farm in 1835, financed by James and Andrew Gairdner on a piece of land they leased from Campbell as well. Donald had fruitlessly protested against these plans a year earlier. He was afraid it might cause problems with the water supply from the Surnaig burn to Laphroaig, as Ardenistiel was only 200 yards away.
The brothers James and Andrew Stein initially ran Ardenistiel, also known at times as Islay or Kildalton distillery.
Both distilleries would continue to have their quarrels – usually over land and water rights - until the 1860's when laird John Ramsay decided to "blend" Ardenistiel into Laphroaig. Ardenistiel had not been successful.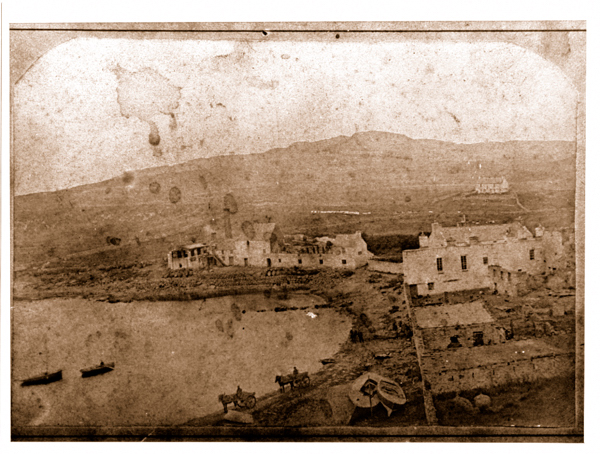 Laphroaig in 1887 with the ruins of Ardenistiel distillery in the right hand bottom corner
In 1836 Donald offered his brother Alexander £350 for his share, to which the latter agreed. Alexander emigrated to Australia where he died in 1881.
Donald died in 1847 two days after he tragically fell into a vat of boiling ale. He had married twice. He had two sons and four daughters by his first wife Isabella MacDougall and a daughter of his second marriage to Alice MacDougall. His son Dugald inherited the distillery, but couldn't run it immediately since he was only eleven. His uncle John Johnston of Tallant acted as one of the Trustees. He appointed Walter Graham from neighboring Lagavulin as distillery manager. In 1857 Dugald came of age, took over the management and was assigned the land lease by his father's Trustees in 1858, but not after some legal disputes with his sisters.
Dugald died in 1877, leaving no ligitimate heirs. His cousin Alexander, who had married his sister Isabella, ran the distillery during a decade, while three Trustees had been appointed. Eventually a new lease was assigned to Alexander, his wife Isabella and her sister Mary and Mary's daughter Isabella.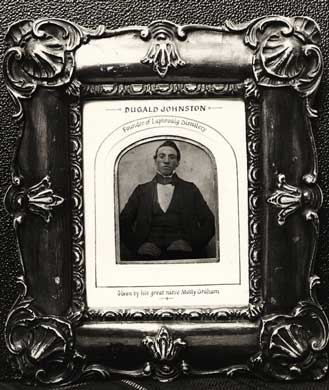 John Johnston of Tallant

Dugald Johnston, not the founder of Laphroaig
1881 Census registers John Brandon, Distillery Manager. Isabella Johnston is stated as "head".
1889 Alexander Johnston, distiller, John Douglas, Excise officer, Duncan Ferguson, Angus McQueen, malt men, Donald McCuaig, William McEwan, still men, Donald Gillies, mash man, Laphroaig distillery. (Register of voters for the County of Argyll 1889-90).
Laphroaig around 1900

In 1907 Alexander (Sandy) died at Laphroaig, surviving his wife only one year.
Sandy's trustees found that he had left four wills and court cases dragged on years past his death. Eventually his cousin John Johnston Hunter Johnston, his sisters Catherine, Isabella and her husband William Stevenson Hunter took over the distillery and secured the lease in 1911 for twenty years.
Two worm tubs and a water wheel at Laphroaig in 1904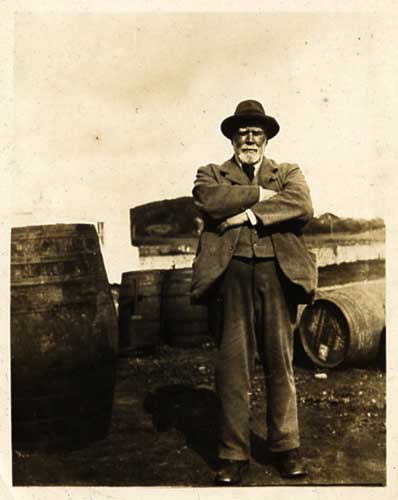 Ian Hunter, son of William S. Hunter and Isabella Johnston, became manager in 1908.
For 70-80 years the Mackies of neighboring Lagavulin had acted as agents for Laphroaig, to the satisfaction of Hunter's predecessors.
Hunter and the other heirs , however, terminated the agency in 1908 and several law cases followed. As a result Peter Mackie tried to copy Laphroaig whisky in a new distillery at Lagavulin: Malt Mill.
It wasn't a success and was dismantled in the 1960-ties.
Ian Hunter expanded (from two to four stills) and renewed the distillery and bought the land from then laird Iain Ramsay in the 1920-ties.
He did not only expand the capacity of the distillery, but also planned an international market growth for his distinctly peaty whisky.
"Sandy" Johnston around 1905
| | |
| --- | --- |
| | New boiler in 1924 |
| Ian Hunter in his office | |
1911: Rental of Laphroaig farm & distillery, excluding the Island of Texa to D. Johnston & Co, of 140 acres at £610 (Apportioned), 60 cattle, 5 horses, 90 sheep on 20 year lease. (Sale Book of Kildalton Estate)
1914: Rental of Laphroaig Farm and Distillery and Texa, peat mosses and water supply to heirs of late Alexander Johnston, distiller £650. Also 15 houses, 1 at £20, 1 at £12, 1 at £16, 5 at £4, 3 at £3, 1 at £2, 2 at £1 5s, 1 at £1 10s.(Sale Book of Kildalton Estate).

During WWII production stopped and the distillery was taken over by the RAF and a company of Royal Engineers.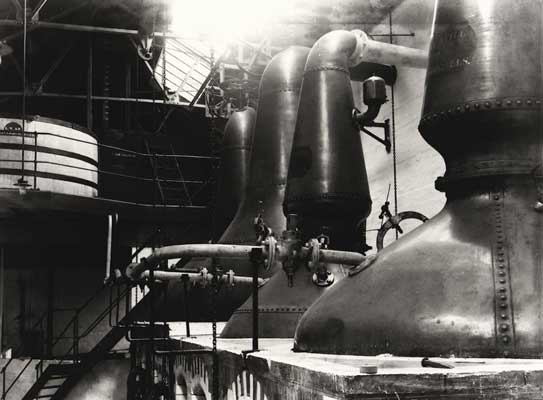 Expansion from two to four coal fired stills around 1924
Ian Hunter made Laphroaig into a limited company in 1951, with himself as Managing Director and Miss Bessie Williamson as Secretary and Director.
Miss Elizabeth "Bessie" Leitch Williamson had joined Laphroaig in 1934 after graduating from Glasgow University and applying for a temporary job as a secretary.
Ian Hunter died in 1954 and he bequeathed ownership of the distillery to Bessie, having been given the distilling secrets, guarded closely within the family so much that Ian Hunter had tried to block a cooper, Mr. James Whittaker, from publishing his memoirs in the 1920's as it described the distillery in too great a detail.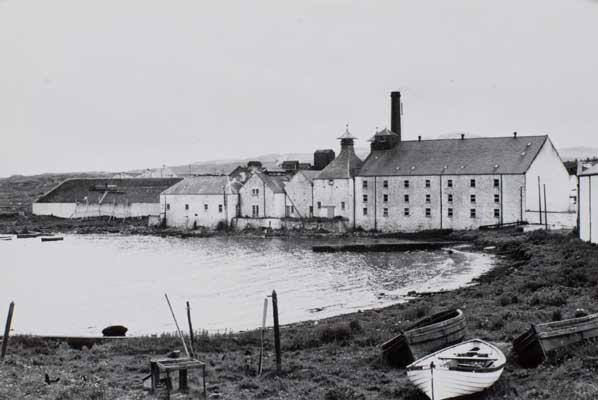 Laphroaig in 1965
She sold her shares to American company Seager Evans, its subsidiary "Long John International", in 1962, 1967 and finally in 1972, but continued as Chairman and Managing Director until 1972 when she retired. She expanded the distillery to five stills in 1967.
Five no longer coal fired stills in 1967
One more big spirit still and an additional wash still were installed in 1972, totalling seven stills, although there had been made plans for eight stills.
Bessie at the wash backs
Plan for eight stills (click on the picture)
She died in 1982, aged 71 years. She had married Wishart Campbell, a Canadian entertainer whose grandfather was from the Mull of Oa and had been forced to emigrate in the Clearances. Wishart Campbell died in 1983.
The Lady Distiller left her possessions to her niece Helen Powell. Subsequent managers: John McDougall and Denis Nicol.

1975: take over by British Whitbread. The still house reconstructed in 1982. Managers: Denis Nicol, Murdo Reed and Colin Ross.
1989: take over by Allied Lyons (UK), the legendary Iain Henderson becoming manager.
1994: Allied Lyons becoming Allied Domecq (British/Spanish). Laphroaig was granted the Royal Warrant by HRH Prince Charles. Managers after Iain Henderson: John Campbell and Robin Shields.
2005: take over by French Pernod Ricard, subsequently sold to American Fortune Brands, owner of Beam Global. Current manager John Campbell.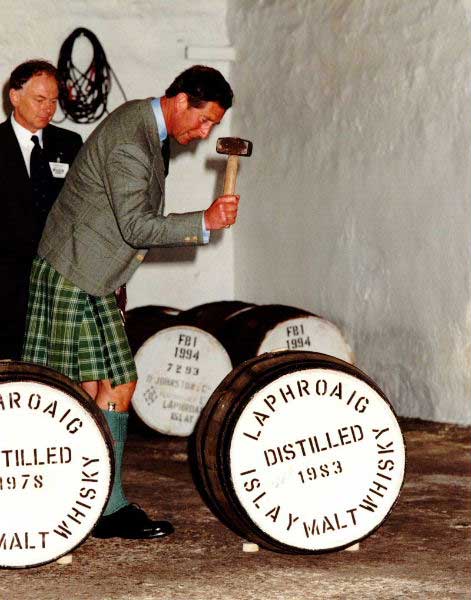 Reconstruction of the still house in 1982 by Murdo Reed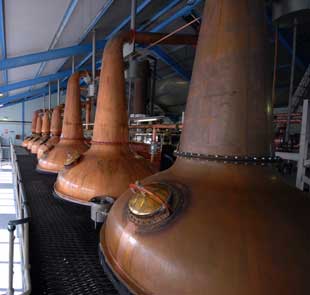 HRH Prince Charles in 1994 with Iain Henderson
Laphroaig today (in the background Lagavulin) with seven steam heated stills

Summary of "The Legend of Laphroaig" by Marcel van Gils and Hans Offringa, ISBN 9789089100276
Copyright © 2007 by Still Publishing, The Netherlands / aerial picture by Armelle Dubois