21-12-2008
New added: Cairdeas 30 year old
07-12-2008
Link to a great new website by Philip Morrice. Philip published a book in 1987 called "The Distilleries of Scotland and Ireland". Familiar name? Right, a remake of Alfred Barnard's book from 1887 exactly 100 years later, both published by Harper's Weekly Gazette. A 1000 copies were printed, originally for the trade only. An unknown number of books was destroyed during a fire of the warehouse the books were stored. Like Barnard 100 years earlier, Philip visited every working distillery in 1985 and 1986. The result is one of the most beautiful whisky books I have ever seen, though not very well known. A masterpiece. Only a few copies are left. Philip is also the author of the Schweppes Guide to Scotch.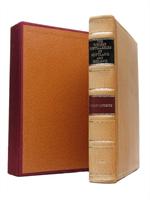 21-11-2008
This is what whisky and collecting make fun: a 10 year old US import probably from the 1940-ties or 50-ties. Extremely rare (thanks to Rafael Reyes, US).
17-10-2008
How rare can it get? Five year old cask sample that was given to Walter Schobert by former distillery manager Iain Henderson in the 1990-ties (many thanks to Werner Hertwig in Berlin, who knows a lot more about whisky than about football).
25-07-2008
Though I do not always agree with Serge Valentin on his ratings of whiskies (he is much too kind..), I fully agree with him that drinking and driving is bloody stupid. Whisky is expensive stuff and whisky drinkers are usually not poor people, so why not spend some euro's on a taxi or hotel? For your own safety and that of others. Therefore this banner and have a look on Serge's website.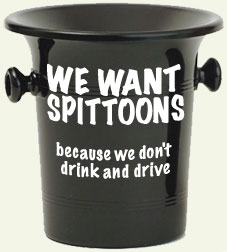 18-07-2008
Received these pictures from Mark Unsworth from Islay Studios today. Mark has written a really nice book about Islay: "Islay Past and Present- A Century of Change". Thanks Mark.
Here you see Alan Hyslop hand over a copy of our book "The Legend of Laphroaig" to HRH Prince Charles, which Hans Offringa and I had signed for him. Thanks Alan and Laphroaig.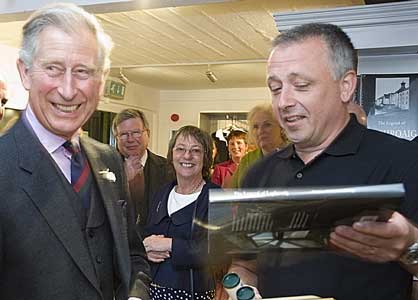 (click on the image for the original size)
17-07-2008
Really nice new website about the closed distillery Glenugie by Bob Hulsebosch from The Netherlands. Well done!
11-07-2008
Manager Evert Lans showing "The Legend" in front of a pallet of books ready to be shipped, just when I visited Dutch distributor Hexspoor.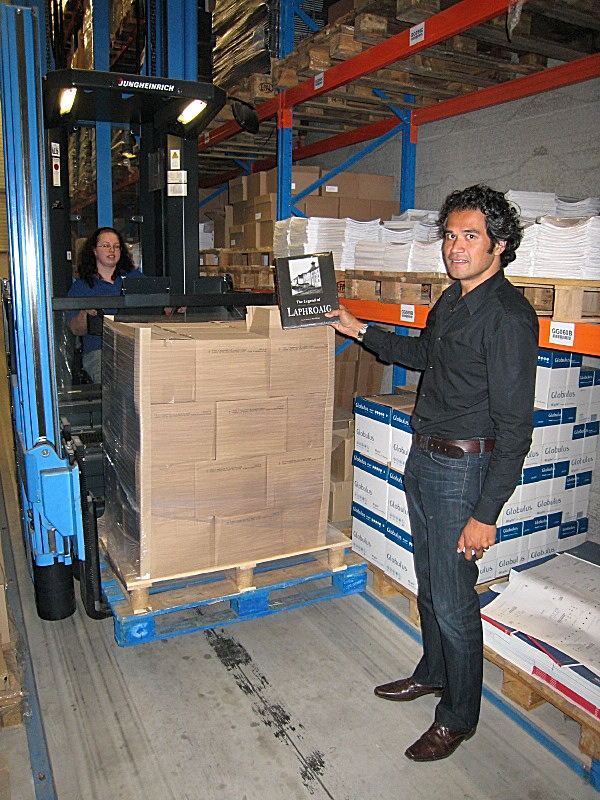 08-07-2008
Page 3 added of "the distillery", containing 32 really nice pictures taken by Hans Offringa, during the making of "The Legend".
04-07-2008
The left-overs of "The Legend": new added pictures of the distillery. Check the book for more pictures and explanation.
26-06-2008
New added: history section. A summary of "The Legend".
20-06-2008
On Wednesday June the 4th, HRH Prince Charles and his wife Camilla visited the distillery. On the occasion, a copy of our book was presented to him by Laphroaig's Alan Hyslop. Thank you, Alan and Laphroaig!! Nothing wrong with a little PR. On Laphroaig's website the whole story with pictures will be published soon. Here are some pics already of the visit: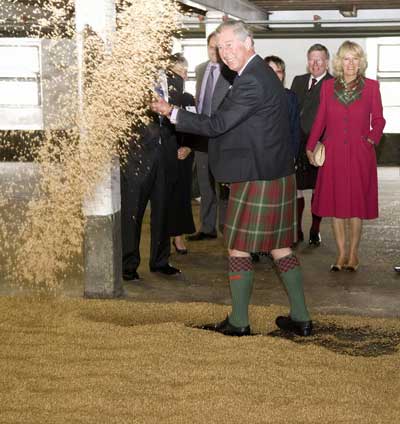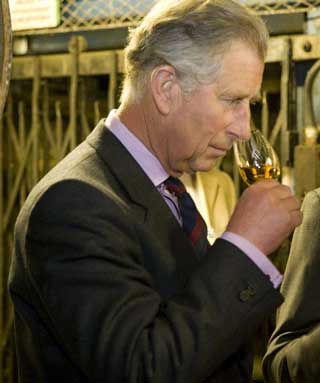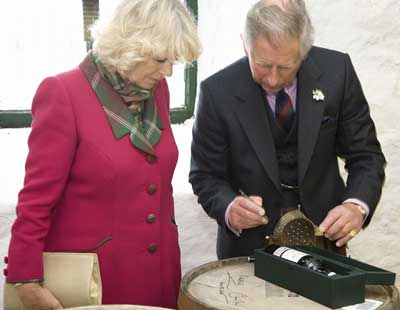 15-06-2008
The 1978 cask returned to Islay and was picked up from my home on May the 19th. The cask will be displayed in the future museum.
08-06-2008
New added:
Two bottles for Feis Ile 2008: Cairdeas
24-03-2008
Looking for an Islay Mist with this label: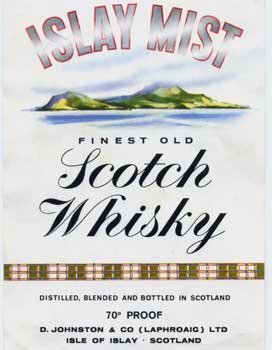 18-01-2008
New link added of a really nice new website from Belgium: