22-12-2007
New distillery minis:
14-11-2007
Two pictures of the launch of "The Legend of Laphroaig".
Iain Henderson and Hans and Marcel.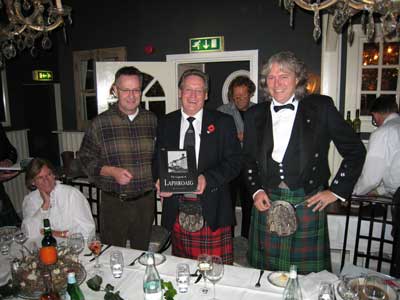 Master blender Robert Hicks with the authors.
Here is the cover of "The Legend...". It's not completely finished but gives a good impression.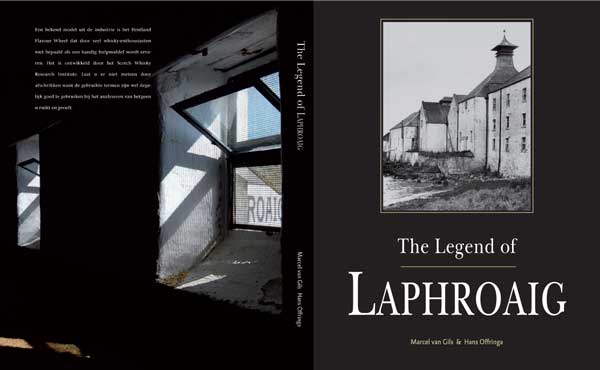 27-07-2007
New added:
Distillery bottles
20-07-2007
At the moment we are working with graphic designer Gijs Dragt on the design of the cover and pages. Research, text and photography are ready and we are in the process of "fine-tuning". Hans Dillesse has made the illustrations, which we will place with every new chapter. The book will contain some 210 pages, all about Laphroaig and nice old bottles, with lots and lots of pictures. We are fine on scedule and planning to launch "The Legend of Laphroaig" during Whisky Live in Leiden, the Netherlands, on November the 10th. Hopefully I can show the cover in a week or so.
27-04-2007
New added:
Islay Mist without any information
and bottle with a really nice label:
NEWS-NEWS-NEWS-NEWS-NEWS-NEWS-NEWS-NEWS-NEWS-NEWS-NEWS
Just back from Islay and Glasgow with Hans and Becky. We worked really well for two weeks and had fantastic cooperation from the Laphroaig people and the people at the Archives of the Glasgow University. Special thanks to Iain Russell, of the Scottish Brewing Archive who came up with an abundance of new information. This is probably not the most exciting of Glasgow buildings, but the the people and its content make up for that:
OK, and here is one of Laphroaig: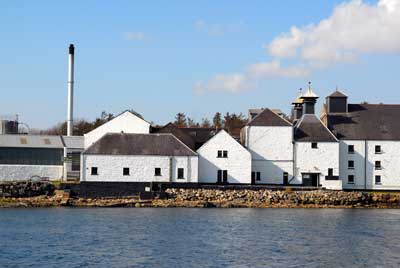 and Emma and Jack in the visitor centre:
05-03-2007
Together with Dutch whisky writer Hans Offringa and Laphroaig (Beam Global), I have started working on a book on Laphroaig, titled "The Legend of Laphroaig". It will be about Islay, Laphroaig's history, Laphroaig today, introducing the people who make the whisky, and a big selection of Laphroaig bottles, containing almost every existing bottle. There will also be chapters about the Friends of Laphroaig, HRH Prince Charles and Laphroaig's website. Hans, his American wife Becky and I will go to Islay in April and make interviews, pictures etc. We have been kindly given permission by Michael Cockram of Beam Global to use any material in their archives available. I have seen most of it already and it is spectacular. Illustrations will be made by Dutch artist Hans Dillesse. The book will be sold through the website of the Friends of Laphroaig and will be launched early November. Anybody who has something which might be of interest to us, information, pictures, bottles, please, let us know!!
Here is a sneak preview:
16-01-2007
Really nice new website from Austria: